Charles Dutoit: On Thursday and Friday at Cankarjev dom
March 27 2023 – Lorella Flego
Perhaps, by way of introduction, allow me to mention how grateful I am for all of the exceptional people I meet on my journey through life. It is not just that they give rise to fascinating and unique conversations, but also that these kinds of conversations are deeply enriching. This is certainly the case with the present conversation, as you really do not have an opportunity to meet someone like this every day, someone whose life is a priceless treasure of travels, experiences and emotions. The celebrated Swiss conductor Charles Dutoit, born in 1936, is currently in Ljubljana. At the age of just 23, he made his debut at the helm of the Lausanne Radio Orchestra at a concert featuring the equally young pianist Martha Argerich, who later became his wife. After 64 years of performing concerts all over the world and releasing more than 70 commercial recordings, he is undoubtedly one of the most important maestros of his generation. Last December, at Teatro La Fenice in Venice, he received the prestigious "Life for Music" award.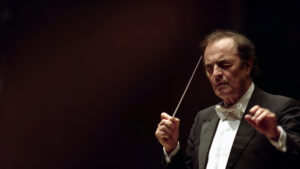 On Thursday 30 March and Friday 31 March, at 7.30 pm, an unforgettable concert will take place in Cankarjev dom's Gallus Hall, featuring the symphonies of great musical masters. The Slovenian Philharmonic Orchestra will be led by the renowned Swiss maestro Charles Dutoit, who is one of the most sought-after conductors in the world. In his long career, he has performed with the best orchestras and soloists on the world's most prestigious stages, while also creating a rich discography and receiving numerous awards, including two Grammy Awards. This is a concert not to be missed, as music is a deeper revelation than all wisdom and philosophy.
How has your time in Slovenia been and how well do you know our country?
I must say I'm always happy here. Ljubljana is a wonderful city, full of life, and it always fills me with inspiration. Yesterday I was in Koper and then in nearby Trieste. It's really fascinating how everything is so close and compact. This is a big advantage of Slovenia. I loved your coast. It was a beautiful day and just warm enough for a walk. My son and I are planning to go to the Postojna Cave. I've never been there, but the whole world talks about it. There are so many beautiful things here. I really enjoy your country and I always like returning. Of course, I travel constantly. A few days ago I was in Buenos Aires and now I'm here with you.
I know you didn't grow up in a family of artists. How did your love of music come about?
That's true. In fact, my passion for music appeared quite late, with the violin. My grandmother on my mother's side was Brazilian, and my father was from Savoy. My parents met in the canton of Vaud in the early 1930s. Today, it's hard to imagine how difficult life was in those times, between the two wars. My father was a captain instructor at a cavalry school in the Swiss army, but he also had small businesses to support his children. He lost everything during the Great Depression and his first wife left him. I was just two years old when the Second World War broke out. In Switzerland, we didn't experience the drama that affected the rest of Europe, but we did suffer due to rationalisation. Even as a child, I wanted to join the school brass band. I loved the military uniforms and equipment, which were typical of the war period. The children wore military caps with the Vaud coat of arms and a small embroidered emblem, which reminded me of pictures of my father in the army.
I was inspired by these images, so a friend and I started working at symphonic concerts in the cathedral. Then I joined a small chamber orchestra in Renens. One day the director was late and my friends asked me if I would have enough courage to take his place, as I was the best musician. I helped them with rehearsals, and by way of thanks the director let me conduct a concert with Mozart's Eine kleine Nachtmusik. I was 14 years old at the time and I can say that it was my debut.
I read that you've visited 196 countries during your career. Are there any others you would like to visit? What is the life of a conductor like?
Above all, interesting, diverse and different. It's true that I've travelled everywhere due to my job, but the trips that are most dear to my heart have been in my private life, such as when I was in Africa, when I got on a train and visited more than 50 countries. I was always motivated by curiosity. That was my driving force. Without curiosity, things simply don't happen. It's good to go outside your comfort zone, then the world opens up before you.
I have a special relationship with the people in the Slovenian Philharmonic. They're extremely talented, special and dedicated to their work and mission. I really like this, which is why I always like coming back.
How much did Herbert von Karajan influence your life, your inspiration and your career?
A lot. It was always a privilege for me to work under his leadership. I first encountered him at a masterclass in Lucerne. That was an unforgettable experience. His courses were extraordinary. He explained how to execute a gesture, how to concentrate our energies and enable everything to flow.
On 27 January 1964, when I was already working for the Bern Symphony Orchestra, I conducted The Rite of Spring by Igor Stravinsky. At that time, few conductors dared attempt this work, apart from Markevitch, Ansermet, Monteux and a few others. The concert was a success that resounded all the way to Karajan, who asked me to conduct El sombrero de tres picos at the Vienna Opera. Apparently, Karajan kept asking around: "Who is this young boy who conducts like that?" After that, he and I saw each other often. Everything around him was fascinating.
How do you view the increasing number of female conductors in recent years?
I think it's wonderful and it was really high time. Finally it has happened… A woman's talent is no different from a man's. In fact, I've often seen young women who are far more talented than their male counterparts.
We mustn't forget that until just a few years ago there were no women in the Vienna Philharmonic. God forbid that one would sit there… For a long time, conductors were all Central European or Eastern Jews. Then came Americans, and later Asians and Latin Americans. Now the time has come for women. This is not a fad: it was 100% necessary and may it stay this way.
What does music mean to you? When do you perceive that psychological aspect of music that triggers incredible emotions?
For me, music is culture, and culture is absolutely essential in our society. Today, everything is within reach thanks to the Internet. We didn't have that. We didn't have much access to information, which is why we were so respectful of tradition. We had to explore, to listen to the radio, to find rare records, which were very expensive. Having a private collection was unimaginable for a student. Today you go to YouTube and you find everything. This is an advantage of culture, because it comes directly into every home. We can all be informed, we can all learn at the same time, without huge expense. Young people today learn by themselves and in front of a mirror.
It seems to me that our generation learned to play music with more effort and more slowly. Our learning had roots. Today, we work at full capacity, we rush, we run everywhere, so sometimes we make mistakes and that's not how it should be. We live in an information society and no longer in a culture society. People are informed, but they are no longer educated. I regret that this is the case. It seems to me that we've gained a lot and also lost a lot.