MATEJ GRAHEK: ADRENALINE IS THE SPICE OF LIFE
People fascinate me. Sometimes I walk down the street and analyse faces very carefully: I reflect on all of the different stories, characters and desires. There are so many different paths that one life is certainly not enough to realise everything. Matej Grahek is a principal flutist in the Slovenian Philharmonic, but he is also a sailor. When I heard this my ears immediately pricked up. The flute and the sea? How do they go together? Well, there are probably invisible threads in life that connect our destinies even when we are not aware of it. The universe already knows, and so does the sea: when you fall in love with it, there is no turning back.
When did you first get to know the flute and why did it convince you?
As a child, I played the recorder with my grandfather at the Trbovlje Music School. He had a reputation as a very strict and successful clarinet teacher. I desperately wanted to play the clarinet, but my grandfather told me: "You can choose any instrument, but not the clarinet." The first thing that came to my mind was, of course, the flute. After studying for six months, even though I was doing very well, I regretted my decision a little, because I realised that only girls play the flute. I mentioned this to my parents, but they said: "You should have thought of that before. You have to play the instrument you've chosen, you can't keep changing your mind every few months. That's it. End of discussion." I'm very grateful to them that they stood their ground, because I soon fell in love with the instrument and finished junior music school easily. I learned the guitar with my father at the same time, and then picked up the bass guitar on my own. Four strings are easier to play than six, and I was useful in a band.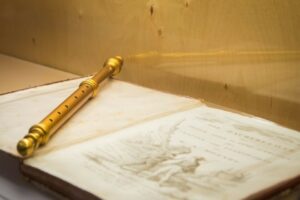 If you could turn back the clock, would you make the same choice now? Or would you perhaps choose another path?
Music has always been a part of our family. Although no one apart from my grandfather was a professional musician, we always sang and played a lot, so I have music in my DNA. When I entered secondary school, and later the academy, I was focused entirely on the flute. I practised a lot and I've always been a perfectionist. Later, in Salzburg, when I thought I already knew something, Irena Grafenauer brought me back down to earth. For a year I only played tone exercises, technical exercises and etudes – nothing else, no compositions, no concertos or sonatas – because she told me that I had terrible technique. You can't go to the Himalayas if you're still stumbling on a hill like Šmarna Gora. It was difficult, but thanks to my stubborn Zasavje character, I accepted the drill as a challenge and practised for six to eight hours a day. I'm still grateful to Irena for this school, because since then I've never had any problems with the basics. After that, it was easy to tackle a more extensive repertoire, which I learned very quickly. Today, I can barely imagine myself in another profession. I feel like a fish in water here.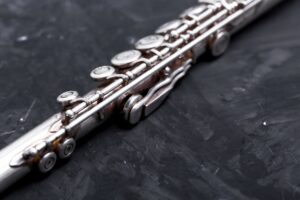 I know that you nurture a special passion for the sea and that you've even written a book about it, Diary of a Little Musician on the Great Ocean. What made you decide to embark on this adventure and what has it given you?
As a child, as well as music, I did, of course, have a talent for other "childish nonsense" and sports. There were no smartphones back then to make us waste our time staring at a screen. I was a very good swimmer. I trained at my local club and at one point I even had to decide between sports or music. In order to use up my excess energy, I was always attracted to childhood adventures with a hint of danger. It was hard for me to just sit still at home. It's the same today. I spent all of my childhood vacations at the seaside, for two months at a time, so the sea became written in my DNA. I always say that I go home to the sea, but I return to Ljubljana as a "migrant worker". Ever since I was a child, I've loved to gaze at the line where the sky meets the sea, and I've always wondered what was over there, beyond the horizon. A few years ago, I simply decided to step out of my comfort zone and discover what I would find on the other side, to find out just how scary the vast ocean is and how big my fears are. This experience made me realise that we are really just a small speck in the middle of the universe that has been given life, and we have to use that life as productively and actively as possible, without comparing ourselves to others. I realised that I have to strive not to judge, not to harm nature or my fellow man.
How much does the sea, the ocean, water, change the way you look at everyday life? I imagine that you're very alone on your boat, but not necessarily lonely. You're probably also full of thoughts. I recently did an interview with the excellent sailor Jasna Tuta, who confided in me that you face your demons in the middle of the sea.
I definitely look at life differently now than I did before that adventure. I wasn't actually alone on the boat, so I didn't experience loneliness, but I was full of thoughts. There you have time to get to know yourself. Thankfully there is no internet. Everything is very limited, there is no showering or washing rags with fresh water, all you have is the sea, which, by the way, is much less salty than our familiar Adriatic Sea. What you do have is a lot of time to think. The demons that you actively engage with are your occasional negative thoughts and the personality traits that you are perhaps not so proud of. For me, the ocean and the sea in general have been my therapy for years. I don't need psychiatrists and antidepressants. I'm not looking for the meaning of life and I'm at peace with everything (well, almost everything).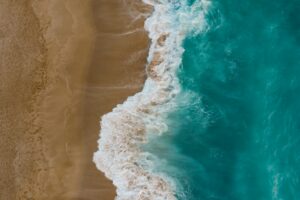 You have a discography of ten albums. I know you are a jazz fan, so you have yet another great passion. It strikes me that one life really isn't enough for everything we want to do and create. Do you have any other wild, unfulfilled dreams?
I added another album to my collection before the first of May. I'm quite proud of it, as it took a long time to put together due to the Covid pandemic. Together with flautist Nina Assimakopoulos, a colleague of mine from the United States, we've released a disc of contemporary works for two flutes and piano by Slovenian and American composers through the record label RTV ZKP. We plan to present the music on a tour of the USA in the near future. I also like to explore music. I like mixing with my musical colleagues in Slovenia and around the world, participating in various groups, going to festivals on the other side of the world. It gives you breadth. You make new contacts and always get new ideas. In recent years, I've been listening more intensively. I really like jazz, especially for relaxation. Weather Report, Miles Davis, Yellow Jackets, Keith Jarrett, Pat Metheny, Al Di Meola, Snarky Puppy… I'm also fascinated by the young musicians I've come across, either by accident or by recommendation. Jacob Collier, Matteo Mancuso, Cory Henry, Hiromi Uehara…
As for my personal plans for sailing or life, I know just one thing: I'd rather die at sea than at home on the sofa from high cholesterol. Before I die, I'd like to set foot on Antarctica or sail part of the Arctic Circle. If this isn't possible, when I retire I'll buy a sailboat and sail to Polynesia or Micronesia. I'll buy my wife a direct plane ticket from Ljubljana to Bora Bora, where she can join me on the sailboat (don't tell her that!). So that I don't have to wait too long, my daughter and I (my son has already experienced this) will set out from Portorož to Murter (about 160 miles) right after the end of our season this year. Due to the heat, we'll sail at night on the five-meter ascetic Seascape and sleep during the day. We'll eat macaroni and toast. The Internet will work until the battery runs out for the first time, just enough for my daughter to look a little outside her comfort zone after a long time. 😉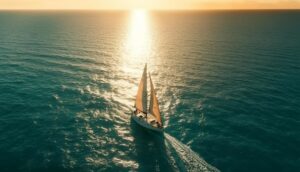 How do you experience music? Besides being your work and obligation, is it also your oasis of happiness, your moment of peace? Is it your peaceful haven?
Music is a part of me. I experience most things through music. Sometimes it's my happiness, other times it's unhappiness. Usually it calms me down, but sometimes it unnerves me. Often it's beautiful, romantic and gentle, but sometimes it's sad, static and calm. A bit like life really. Constant yin and yang. One's perception of music changes over the years, at least that's how I see it. I'm fascinated by how some young people are playing these days. The level is really scary. On the other hand, I'm sorry that young people today perceive music so superficially, in a YouTube way, where they look for their 20-second dopamine, which they get through TikTok, Instagram… There are too many short, superficial stimuli and not enough deeper perception and thinking.
Do you love challenges? The sea is probably a big challenge, and so is performing in front of an audience. How important is adrenaline?
Adrenaline is the spice of life. Some people like less spice or no spice at all. Personally, I'm a fan of moderately spicy. It's the same in music. Over the years, the adrenaline or nervousness has not abated at all. Sometimes it seems that it eats at me even more, but now I control it much more easily. Some of my colleagues don't agree with this, but I know that with the years it becomes easier for some and harder for others. The fact is that as long as we are healthy and curious, and providing we put at least some effort and positive energy into things, all of the years are the best years!