Slovenian Philharmonic building
The site of today's beautiful Slovenian Philharmonic building was for decades dominated by the old "Stanovsko" – the State Theatre. The Stanovsko Theatre had a strong German orientation and most of its actors were of German origin. The best seats and boxes were in the permanent possession of Ljubljana's Nabob and nobility. Such a theatre was certainly not agreeable to progressive Slovenians. However, domestic performances were rare and thus theatre goers had little choice but to visit German plays.
Then something unthinkable happened. It was on 17 February 1887, at half past midnight: "Fire! Feuer!"
The fateful fire completely ruined the building – it was razed to the ground. Profound mourning among theatre lovers … many tears… extensive material damage … but … maybe finally now …?
"Even God himself could not tolerate the injustice that Slovenian people have been subjected to – he has unleashed fire upon the old theatre."
In these words, which came straight from the heart of theatre historian, Anton Trstenjak, a ray of hope could be heard. Perhaps at last the time was right for a new theatre, a theatre where the local population would have more rights.
The foundations for the new theatre were laid soon after the fire – today's Slovenian National Theatre Drama Ljubljana. On the site of the fire, just few years later, a new building appeared – the so-called Tonhalle.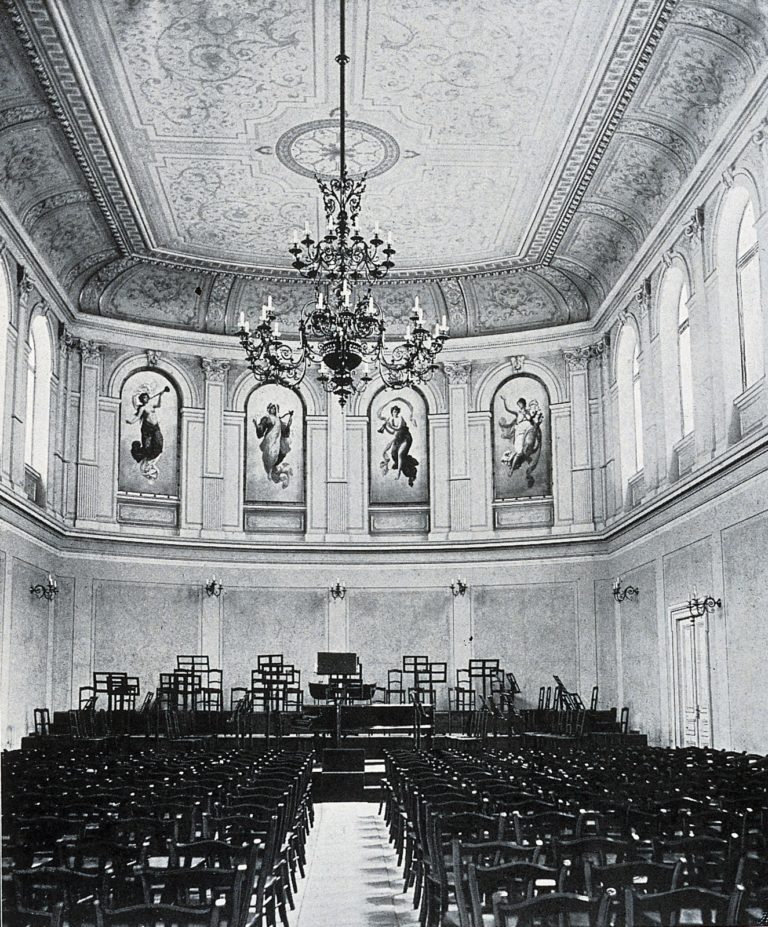 The date of 25 October 1891 was marked by music. All over Ljubljana solemn concerts were held, and at the central concert Liszt's Piano concerto was performed.
We can only imagine how enchanted the visitors were, admiring the miraculous Great Hall for first time, with its frescoes painted by H. Wettach, an extremely popular artist of the time. Nor did the Small Hall lag behind in its splendour.
Later, in 1937, the Great Hall was renovated and, in keeping with architect Jože Platner's plans, a balcony was added. The reconstruction of the undulating rare façade with vases was carried out under Jože Plecnik's supervision.
The preparations for the tercentenary of the Slovenian Philharmonic and its predecessors (2001/02), brought about a thorough renovation of the entire building. The restored building was inaugurated on 25 September 2001, while on 8 January 2003, on the three hundredth anniversary of the first documented performances, the newly installed organ resounded in the Great Hall for the first time.