Glasba v živo je druga zgodba
Mozart, Beethoven, Chopin, Bach, Vivaldi and Schubert are just some of the names of the great composers who have gone down in the history of music, and you can listen to them regularly at the Philharmonic. They are true giants who have shaped the history of the music industry, and in the skilful hands of our musicians, they become eternally relevant over and over again. It is absolutely clear that music is timeless. It lives on with the help of records, CDs and radio stations, but live music has an altogether different meaning and effect: it is a priceless experience and an excellent opportunity to do something for ourselves.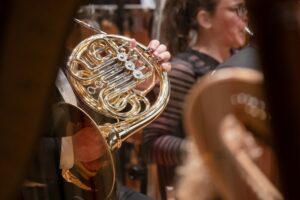 Just listening attentively to a famous symphony live, with closed eyes, can convey us far away, so that we feel the atmosphere that reigns in the best and greatest theatres in the world. The ambiance, the acoustics, the lights: everything contributes to the magical suggestiveness of sounds without words, leading the listener on a journey through the labyrinth of his or her own mind, memories and emotions. The Slovenian Philharmonic is made up of top musicians, each of whom is unique in their own field. They are artists who are passionate about making listening to classical music an experience for all of the senses. When you come to the Slovenian Philharmonic, try to leave all of your thoughts and worries at the door. It is a temple of music and emotions, a place where time can stand still.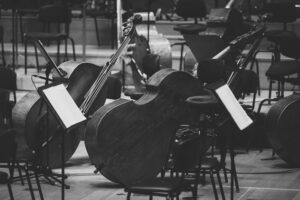 Many studies have shown that listening to music by Mozart or Chopin lowers our blood pressure due to its relaxing effect on us. That is why a Chopin Nocturne, for instance, can become an invaluable ally against heart attack and stroke. What is more, there is a lot of evidence showing that classical music has a beneficial effect and relieves pain in the body and mind. It is very effective pain relief, providing much more in one hour than any wellness centre.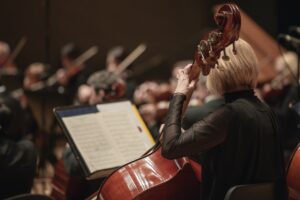 We have everything within our reach, in the middle of Ljubljana, where the beautiful Philharmonic becomes a world that encompasses art, culture, history and spirituality. Just think about how many prayers have been transformed into beautiful musical notes: first Schubert's Ave Maria, then all of the classical compositions that have been inspired by literary works, poetry or paintings. Just like a book, which has no images yet gives rise to different imaginings in each of us, so classical music, which has no words, leaves the listener free to feel the words dictated by the heart in a symphony.