When the Sound of the Drum Connects People
African drummer Babatunde Olatunji puts it like this:
Rhythm is the essence of our lives. The whole universe spins in rhythm. Every object and every human action happens in rhythm.
As a child, I lived for five years in Africa, in Ghana, where my family moved. I have very vivid memories of that period: the flowers, the garden, the people, the smell of spices and mildew, the bustle of the streets and – the drums. Countless times I listened to my mother's stories about how the people there literally fell into a trance during various magical rituals because the rhythm of the drum matched the rhythm of the heart. It's fascinating how that sound becomes part of you. Later I started playing the piano and I practised diligently for more than twelve years, but the drums are another story altogether, much more primal, ancient and magical. I had the pleasure of talking with Franci Krevh, creator of the Young Ears Series for families and percussionist in the Slovenian Philharmonic Orchestra.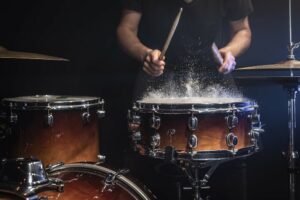 When did you first encounter percussion and what did you find most convincing about percussion?
Good question. Next question! I really don't know. I think it was at a concert by the band Hazard in Slovenj Gradec. A long time ago. A very long time.
Your work for the Slovenian Philharmonic is invaluable. In life it's always the case that if you give something and get something back. What has the Philharmonic given you?
Life with the Philharmonic has opened up quite a few concert halls to me and given me enjoyable travels, mystical musical moments and – most importantly – experiences and opportunities to speak through music.
How important is collective music making and what has it taught you? Have you perhaps become more tolerant, more attentive to others, more open to communication?
In my opinion, collective music making is the essence of music. As a musician, I have often observed the reactions of the audience from the stage, and I still do. Fortunately, most of the time I sense their genuine satisfaction. Since I am, of course, a percussionist, a drummer, I've noticed in listeners, especially young people, an irresistible curiosity, expectation or hope that they could try to play percussion themselves, or try to create a rhythm.
Interestingly, this is only part of the story. Over the years, I've realised that it's not just about their desire to play an instrument, it's about playing with others, whether in a duet, in a trio of friends, in a society of musicians or in an orchestra. Ensemble playing is therefore at the top of the scale of "musical needs" and it really is the essence of music. But in order to be able to play in a group, there is something else I should add, something that is sometimes neglected these days: you have to adapt. Of course, it's easier to adapt if you have a conductor.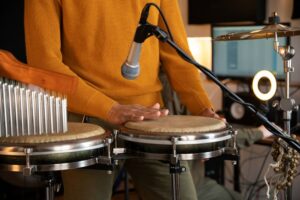 I've read quite a few interesting articles about the importance of percussion instruments for children and their role in the world of communication. At the same time, percussion instruments have really deep roots that reach deep into the past.
Drumming has been around for thousands of years. The use of drums in the earliest civilizations has been confirmed by many historical remains: carved images, decorated pots, and so on. Almost every culture in the world has a history of ensemble drumming. Different cultures produced different instruments and rhythms. The purposes were also different: communication with other people or with supernatural forces, scaring the enemy, on so on. Magical power was attributed to the drum, which is why it was protected more than any other instrument. Its use by dentists is also interesting: centuries ago, travelling dentists had a drummer with them to drown out the patient's screams. Often musicians used a drummer to unify the group. At our concerts, the conductor sometimes manages to do this.
Percussion is also supposed be suitable for motivational workshops. Why is this?
In my music workshops, which I conduct for various business and social environments, I ask myself whether we can connect through music. Can we connect people through rhythm? A percussion circle is an event in which the participants experience a common rhythm by playing different percussion instruments (African drums, congas, rattles, and so on), which promotes a sense of cooperation, of synergy, and creates an awareness of common achievements or goals, thus connecting people. Another reason why percussion instruments are interesting for such workshops is that they are relatively easy to use. The participants do not need any prior knowledge. Eliciting a sound or a rhythm from a drum is not exactly rocket science. You just have to let go.
Does drumming also help with stress? I imagine that it's tiring and demanding, but at the same time, it probably gets rid of that negative energy in you. Can we say that drumming is therapeutic?
If we turn to pure facts, or the results of clinical research, we can say that drumming:
– improves general wellbeing,
– strengthens the cardiovascular system,
– strengthens the immune system,
– improves blood circulation,
– consumes calories,
– lowers the level of stress and anxiety,
– reduces anxiety and depression.
When you play the drums, do you also listen to others?
An Indian proverb says: a good drummer plays to the extent that he listens.
Percussion instruments are spread all over the world and are very diverse. Which ones are your favourites?
Uff, that's a tough question. I'd say my favourites keep changing. When I was at secondary school, as a heavy metal fan (the band Xenophobia), I was into the drum kit and a double pedal drum. During my studies, I was very taken by the marimba. In the first years of orchestral playing, I delved into cymbals, and then into various ethnic percussion instruments. As a member of the Slovenian Percussion Project (SToP), I've sometimes had to make my own unusual and unique percussion instruments. In recent years, however, I've been most interested in stone. In Štanjel, we have a sound gallery where unique musical instruments – stone percussion instruments – are exhibited.
So is music the right solution to the alienation of modern man?
The answer is: yes! Music connects us. We can connect people with rhythm! Rhythm is a human element and don't forget – drumming is fun!